Art in Year 9
Year 9 prepares students for the challenges of GCSE Art & Design, introducing students to how and why artists create work that communicates a concept and deeper meaning in a prolonged project throughout the year.
During this year pupils will:
Be able produce creative and imaginative outcomes that critically analyse and question a given theme/concept, working on a year long project working towards a larger final piece, in preparation for work practice in GCSE Art & Design
Continue to explore a wide range and combination of materials and techniques such as: drawing, portrait and hand drawing, acrylic, oil pastels, watercolour, collage, biro, Sellotape transfer, wax transfer, mixed media final outcome…
Investigate and research the work of contemporary and historical artists and makers such as: Jennifer Collier, Evelyn Tannus, Heikki Leis..
Develop their visual literacy skills through critical analysis of the work of others and the critical evaluation and creation of their own artwork, learning how to use annotation to further their creative journey through a project
Build an awareness of the further applications and functions of Art & Design in society (art practice, scientific recording and observation, advertising) and able to make links between their own work and the work of other artists
Develop a meaningful and personal project with a final outcome, in preparation for the coursework created during GCSE Art & Design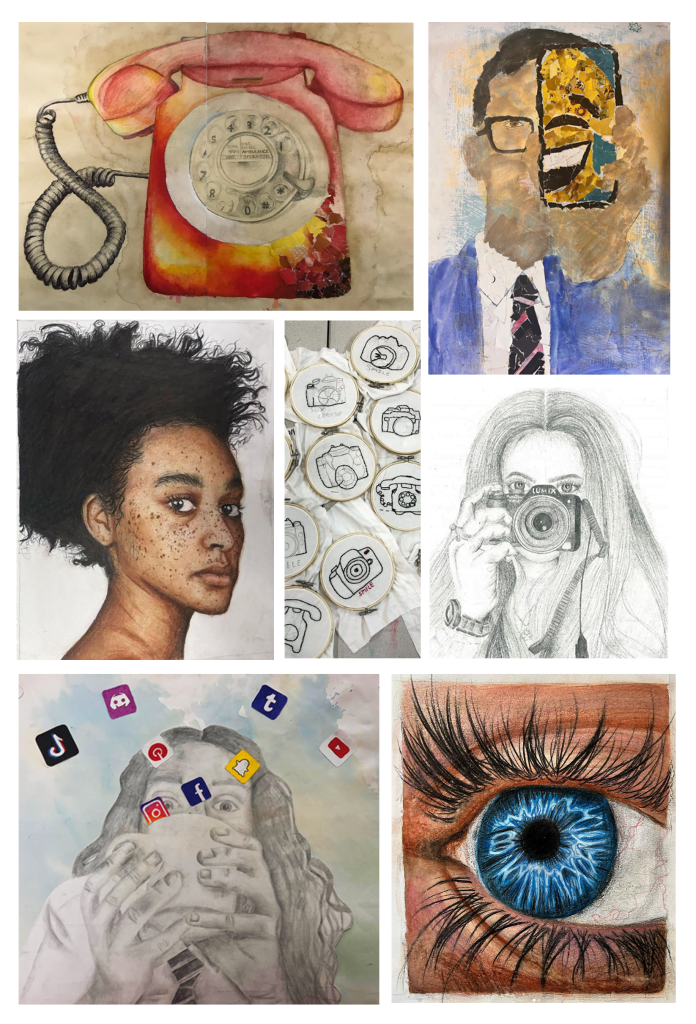 Visual Communication: Students will work on the project entitled 'Visual Communication' throughout year 9. This prolonged project is workshop based, allowing students to learn and develop new and exciting techniques and skills. They will explore a range of materials and media in their sketchbooks looking at ways of communication, culminating in a final outcome regarding 'The Perils of Social Media'. During this year, students will also have the opportunity to work with a visiting artist!